Turkey fires another diplomatic salvo at Germany
Comments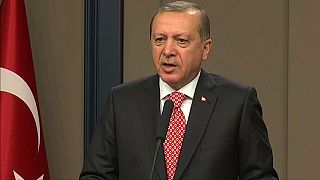 What kind of friendship is this?

Turkish President
Another salvo has been launched in the diplomatic crossfire between Germany and Turkey.
The Turkish President has accused Berlin of not being fully committed to the fight against terrorism.
Speaking before a trip to Pakistan, Recep Tayyip Erdogan also claimed to have proof of German support for the PKK.
What did Erdogan say?
"While you (Germany) have declared PKK a terrorist organisation, you still give them support implicitly or explicitly. What kind of friendship is this? How sincere is this? What kind of behaviour is this? It doesn't make sense."
Erdogan went on to accuse Belgium of supporting anti-Turkish militants.
"Belgium is now an important centre (for militants). It is not only an important centre for PKK but also for FETO (the Turkish state's acronym for Fetullah Gulen Terrorist Organisation). While important things happen, while our mosques are set on fire, nobody seems to care."
Pakistan visit
Erdogan has arrived in Pakistan for a two-day visit.
The Turkish president and his wife, Ermine, were welcomed by Prime Minister Nawaz Sharif upon their arrival at an airforce base.
The Turkish president has been to Pakistan on a number of occasions.
However, this will be his first bilateral visit to Pakistan since assuming office, according to a statement from the Pakistani Foreign Office.
As well as meeting with President Mamnoon Hussain, President Erdogan will be holding talks with Prime Minister Muhammed Nawaz Sharif.
He will also address a joint session of parliament.
Teachers ordered to leave the country
Pakistan ordered Turkish teachers at schools with alleged links to a Turkish cleric opposed to President Tayyip Erdogan to leave the country in preparation for the visit.
The teachers and their families, numbering around 450 people, were given three days notice to leave, according to a statement from the PakTurk International Schools and Colleges.
PakTurk educates more than 10,000 students in Pakistan and denies any affiliation with the cleric Fethullah Gulen or his "Hizmet" movement.
Erdogan has accused Gulen, a former political ally, of being behind a coup attempt last July.