Kenya destroyed some 5,250 illegal firearms by fire on Tuesday as part of efforts to fight crimes like cattle rustling, carjackings and to eliminate threats from terrorism.
The burning destroyed weapons confiscated by law enforcement officials or voluntarily surrendered to agents collecting illegal small arms and light weapons.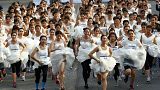 The Running of the Brides in Thailand saw 250 couples complete a four kilometre (2.