Britain's Prince Charles and Prince Harry took centre stage in Remembrance events on Friday (11 November).
Prince Charles attended a memorial service in Manama, Bahrain while Prince Harry was at the National Memorial Arboretum in Staffordshire, England.
Armistice Day is marked around the world at 11 am (local time) on 11 November, the eleventh hour of the eleventh day of the eleventh month, when the Armistice Treaty was signed in 1918, ending 'The Great War.'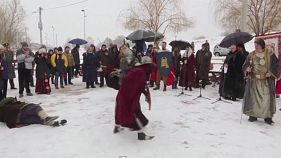 Sub zero temperatures in Serbia did not deter history and heritage fans.