On the banks of the Tigris river, men sat and watched, smiling with relief as Iraqi policemen, soldiers and local youths bathed in muddy spring water in a town that was recaptured from Islamic State just a few days ago.
Residents of the area said they were unable to reap the benefits of the springs for more than two years under the rule of Islamic State, who prohibited anyone from going there.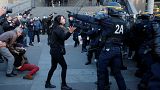 Tensions were running high on Paris' Bastille Square on Sunday night (April 23), at the end of a protest called by left wing militants.