More than 5,000 people marched along Red Square on Monday (November 7) to celebrate the 75th anniversary of the historic military parade held in Moscow on November 7, 1941.
The ceremony was attended by WWII veterans who took part in the legendary parade in 1941, the 1945 Victory Parade, representatives of veterans' and youth organisations and municipal authorities.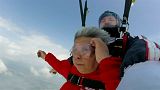 A 70-year-old grandmother has become an internet star in China after she took up skydiving.