Iraqi forces opened a safe passage for civilians trapped in Mosul's dense neighborhoods, allowing thousands to flee areas where ISIL militants put up some of the fiercest resistance yet in the campaign to retake the city.
It's one of the largest outflows of civilians from Mosul since Iraqi forces first launched the operation on October 17th to rout the militants from the city.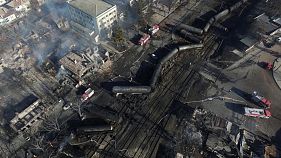 At least five people have died in northeastern Bulgaria following a gas explosion after a train derailed early on Saturday.