Thousands of South Africans took to the streets to demand the resignation of President Jacob Zuma.
Zuma is enmeshed in scandals that critics say are undermining the country's democracy.
The protests in the administrative capital of Pretoria came as a court ordered the release of a state watchdog report about allegations that a business family linked to Zuma sought to influence some cabinet post selections to benefit its own business interests.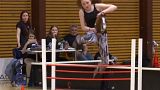 Hobby horse enthusiasts from all over Finland gathered in Vantaa on Saturday for annual championships.