Masked youths burned rubbish and set up roadblocks in a volatile Venezuelan border city, witnesses said, in the latest protest over the suspension of a referendum drive to remove socialist President Nicolas Maduro.
Several hundred students held demonstrations in San Cristobal, near the frontier with Colombia. The city, a hotbed of anti-Maduro sentiment, was the site of the worst violence during protests two years ago that led to 43 deaths across the nation.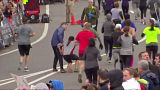 A woman close to collapsing at the end of the Philadelphia Love Run Half Marathon was given a helping hand as she approached the finish line.