Hungary: police officer shot dead during house search
Comments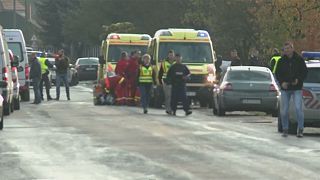 A Hungarian policeman has been shot dead, as officers tried to search the home of a 76-year-old suspected of illegally possessing firearms.
It happened early on Wednesday in Bony, near Gyor, in the west of the country.
The police officer is said to have been shot in the head.
"Based on current findings, the assailant fired five to six shots from a machine gun," said prosecutor Imre Keresztes.
The suspected attacker – reportedly a member of a local far-right organisation – was wounded by police fire and taken to hospital.