A plan to create a sanctuary for whales in the South Atlantic has been shot down.
About 70 percent of an estimated three million whales killed around the world in the last century were taken in southern hemisphere waters, say the backers of this proposal.
It was brought to the table at the International Whaling Commission in Portoroz, Slovenia, which is celebrating its 70th anniversary.
The idea was sponsored by Argentina, Brazil, Gabon and Uruguay and needed a 75 percent majority to succeed. But it only mustered 38 votes out of 64 that were cast.
It would have created a no-hunt zone the size of India and Russia put together.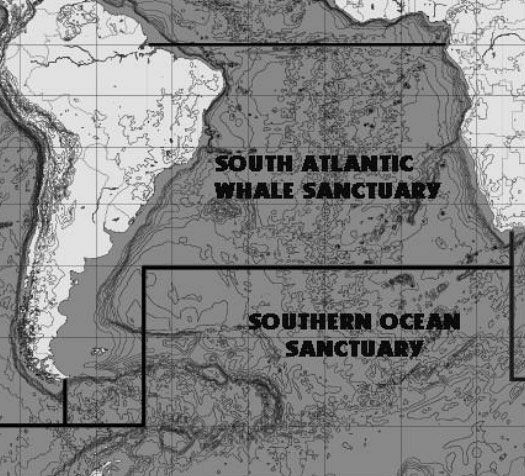 The commission said it was crucial to " reassert biodiversity conservation interests" and to "maintain or increase current whale stocks level".
But it was rejected by a group of countries led by Japan, Norway and Iceland. The initiative has been turned down at every IWC meeting since 2001.
Japan's IWC commissioner told delegates at the commission: "Sustainable use of marine living resources, including whales … is perfectly consistent with environmental protection.
"This proposal is against the principle of sustainable utilisation of marine living resources."
Greenpeace whale expert John Frizell said: "With all the problems currently facing whale populations that have previously been devastated by commercial whaling, it is clear they need a protected zone where they will be able not just to survive, but to rebuild and thrive.
"What is the most disappointing is that all these efforts are ultimately being undermined by IWC member countries who are thousands of miles away, not even in the southern hemisphere and some even on the other side of the world."
Matt Collins of the International Fund for Animal Welfares said: "A sanctuary in this region would have provided strong protection to a wide range of whale and dolphin species."
Excuses to kill whales 🐳
"Scientific research"
"Food culture"#IWC66 #IWC2016 #WhaleSanctuaryNow#OpWhales pic.twitter.com/bXz7Hot5xH

— Anonymous Jazz 🐬 (@JazzyDolphin) 25 octobre 2016
All views
Get a different perspective
Every story can be told in many ways: see the perspectives from Euronews journalists in our other language teams.