A vessel carrying around 1,100 rescued migrants aboard arrived in Sicily on Monday.
The migrants were assisted by volunteers from the Italian Red Cross after they disembarked the ship.
So far in 2016, at least 335,800 people have reached Europe by sea, according to the International Organisation for Migration (IOM).
The IOM says at least 3,650 migrants have died crossing the Mediterranean this year.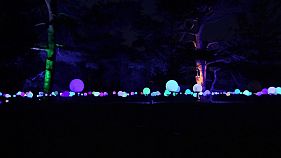 Flaming torches, yuletide carols, singing trees and lasers are all being deployed by the Royal Botanical Gardens at Kew in London.