Hundreds of clowns gathered in Mexico City to defend their profession and condemn the so-called 'creepy' clown craze
The clowns came together at the Revolution Monument and shouted "We are clowns, not killers".
The event was part of an annual gathering of clowns from across Latin America, which includes costume competitions and shows in several city theatres.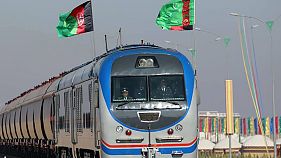 The presidents of Turkmenistan and Afghanistan on Monday officially opened a new railroad that will link the oil-rich former Soviet republic with Afghanistan.