Kurdish Peshmerga Forces reportedly managed to get close to the town of Bartella and within around 21 kilometres (13 miles) of their main target, as the battle to retake the city of Mosul got underway.
The journey was long and slow as long sections of the road leading north-west from Erbil to Mosul have been plastered with explosive devices, left behind by ISIL fighters, according reports.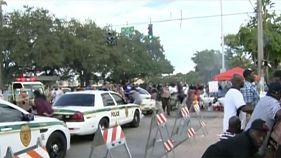 Eight people, including five juveniles, have been wounded in a shooting at a park in Miami.