Europe and Russia's mission to Mars
Comments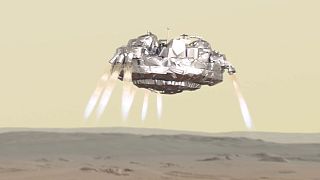 The ExoMars mission blasted off seven months ago abord a Russian rocket from Baikonur Cosmodrome in Kazakhstan.
After its 56-million kilometre journey, the Schiaparelli lander separated from the spacecraft Trace Gas Orbiter and started a three-day descent to the surface.
Its primary aim on the red planet is to search for signs of past and present life by examining trace gases, such as methane.
Scientists believe that methane, a chemical strongly linked to life on Earth, could stem from micro-organisms that either became extinct millions of years ago, or are still alive.
Mark McCaughrean, a senior science adviser at the European Space Agency explained: "By going there with our new Trace Gas Orbiter we can hope to try to measure where it is coming from, see how it changes during the seasons, see where it is coming from on the surface, and hopefully we can tell the difference between it coming from sort of boring geology where rocks get changed in the presence of water under the surface or the more exciting possibility: life."
Schiaparelli is Europe's second attempt to land on Mars after a failed mission by the British landing craft Beagle 2 in 2003.
Once its supersonic parachute opens, a front shield falls away and a radar system starts monitoring the spacecraft's altitude above the ground.
Then, the parachute and rear shield are jettisoned, allowing Schiaparelli's propulsion systems to ignite and bring the craft down safely, cushioned by a crushable structure.
Until now, only the Americans have succeeded in operating on Mars. NASA has two functioning rovers, Opportunity has been there since 2004 while Curiosity has been working since 2012; both are searching for signs of life on the red planet, most notably water.
Europe and Russia's programme is a two-part mission, the second delayed to 2020, will deliver a European rover to the Martian surface, a rover capable of drilling into the ground and collecting samples for analysis.