Colombians come out in favour of peace as Santos seeks a speedy solution
Comments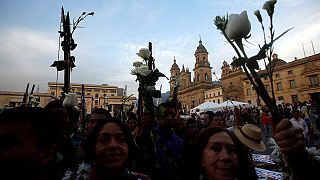 Colombians have taken to the streets of the capital for the second time in a week to call for the revival of a peace deal which was narrowly rejected by the people days after being signed.
Uncertainty is the enemy of the process.

President of Colombia
It was hoped the accord between the government and FARC rebels would put an end to over 50 years of conflict and killings.
Historically politically apathetic, Colombians have been shaken into action by the fading peace prospects.
Willing to make adjustments
Timochenko, the FARC leader, said on Wednesday that the group is willing to make concessions, but not to restart negotiations from scratch.
However opponents of the agreement, led by former President Alvaro Uribe, say it is too lenient on the group and are pushing for harsher penalties for the rebel leaders.
The initial accord stated that guerillas who confess to war crimes would be spared jail time. Instead, they would be forced to carry out community development work in areas badly affected by the conflict.
'Uncertainty is the enemy'
Representatives of those who voted against the deal were in discussions with current President Juan Manuel Santos as the march took place.
He commended the burst of activism and reiterated the need for a quick solution to the deadlock.
"The great majority has asked me to find a solution quickly, because uncertainty is the enemy of the process," said Santos in a televised address. "I will continue to listen and gather doubts so that I can address them and so that they can be discussed at the negotiating table."
ELN

negotiations

The government is also due to begin peace talks with the ELN – National Liberation Army – in Ecuador on October 27.

Colombia's second-largest guerilla group began circulating a video of one of its hostages on Wednesday (October 12) after promising to release two of them before the discussions begin.

The clip is believed to have been filmed a month earlier. In it ex-governor of the western department of Choco, Odin Sanchez, is seen being marched through the jungle by armed rebel fighters in uniforms.

It is not clear how many people the ELN is holding captive.

The approximately 2,000-strong group said the issue of freeing hostages should form part of the peace negotiations. But their stance appears to have eased in the past two weeks, with the release of three people and the promise of more to come.

Santos said the rebels had also committed to not carrying out any further kidnappings.

He won the 2016 Nobel Peace Prize for his efforts to resolve the 52-year conflict and has since welcomed the idea of "complete peace" in Colombia, if the FARC and the ELN can reach an agreement to give up fighting.