Now Reading:
360° video: Jeers and cheers against newspaper closure in Hungary
Several thousand Hungarians have protested outside parliament in Budapest, saying press freedom is under threat following the closure of Népszabadság, the country's leading opposition newspaper. The owners of the newspaper blame financial losses, but civil rights groups believe it has been shut down because of its criticism of right-wing Prime Minister Viktor Orban's government.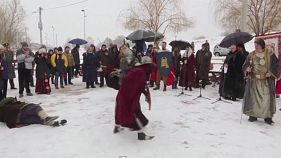 Sub zero temperatures in Serbia did not deter history and heritage fans.