How a bun, a bagel and a pretzel explain the 2016 Nobel Prize for Physics
Comments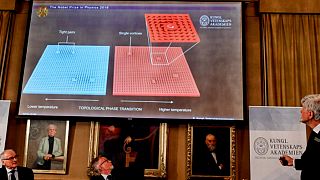 "Look deep into nature and you will understand everything better."
This quote from Albert Einstein could easily have served as a guiding principle for David Thouless, Duncan Haldane and Michael Kosterlitz.
The trio of British-born scientists has been awarded the Nobel Prize for Physics for their discoveries about strange or unusual forms of matter or, in the words of the Nobel Committee, "for theoretical discoveries of topological phase transitions and topological phases of matter."
Here, in the simplest terms possible, is the Euronews who, what, why, where and when of Tuesday's 2016 Nobel Prize for Physics.
Who
#BREAKING David Thouless, Duncan Haldane and Michael Kosterlitz awarded 2016 #NobelPrize in Physics. pic.twitter.com/ggco6BjxFv

— Times of India (@timesofindia) October 4, 2016
The three scientists are all British-born but now live and work in the United States.
David Thouless
Born in 1934 near Glasgow
Emeritus professor at the University of Washington
Duncan Haldane
Born in 1951 in London
Professor of physics at Princeton University
Michael Kosterlitz
Born in 1942 in Aberdeen
Affiliated to Brown University
Digital Tech News: Science of 'exotic' states of matter lands Nobel physics prize: David Thouless, Duncan Hal… https://t.co/5xSssFh1Za

— Digital Tech News (@digitaltechnol7) October 4, 2016
What
Here comes the science.
The trio's research looks at what is known as "Topology" – describing properties that change state in a stepwise manner.
It plays a significant part in the area of quantum physics.
Topology is a branch of mathematics that describes properties that only change step-wise. 2016 #NobelPrize Physics pic.twitter.com/hrMBqG8jT7

— The Nobel Prize (@NobelPrize) October 4, 2016
More specifically:
Length, width and height are the three dimensions of matter that we are all familiar with.
However, in their theoretical research, Kosterlitz and Thouless focused on flat or two-dimensional forms of matter, for example on flat surfaces or extremely thin layers.
Haldane also studied one-dimensional matter, or extremely thin threads.
They came up with a mathematical model to explain the physical changes in rare states of matter like superconductors and superfluids, under these conditions.
Bagel, bun and pretzel
Monday's 2016 Nobel Prize for Medicine began with experiments with baker's yeast.
Tuesday's Physics prize continues with the baking metaphor.
Thors Hans Hansson from the Nobel physics committee used a bagel, a pretzel and a cinnamon bun to explain the theory of topology.
The bun has no holes, the bagel has one hole and the pretzel has two.
Topology – what the scientists modeled – examines the unchanging properties of materials. For example, the number of holes in a pretzel remains the same whatever shape it is bent into.
Member of the Nobel committee for physics explains topology using a cinnamon bun, a bagel and a pretzel https://t.co/gORO04UYam

— The Nobel Prize (@NobelPrize) October 4, 2016
Why
"This has paved the way for designing new materials with novel properties and there is great hope that this will be important for many future technologies," – Acting chairman of the Nobel Committee, Professor Nils Mårtensson.
The discoveries have helped scientists design new materials for new technologies.
When
The three academics have worked on the concept throughout their lengthy careers.
The Nobel in Numbers
110 – Nobel prizes in Physics awarded 1901-2016
47 – Individual winners of Physics prize
2 – Women awarded the Physics prize so far
1 – person (John Bardeen) awarded the prize twice
25 – age of youngest winner, Lawrence Bragg in 1915
55 average age of the laureates
More numbers here
More
Read the Euronews who, what, why, where and when of the 2016 Nobel prize for Medicine here