Yes and No in Colombia: behind the divisions ahead of the vote to ratify the historic peace deal
Comments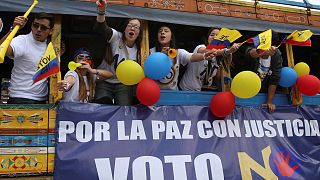 Colombians are going to the polls on Sunday to decide whether to ratify a peace deal that would bring an end to Latin America's longest running armed conflict.
If voters say yes to the agreement signed by President Juan Manuel Santos and the head of the FARC rebels, it would end half a century of fighting which has killed a quarter of a million people. In Bogota for Euronews, Natalia Orozco says:
"Neither the rain nor the rise of the No vote has stopped the growth of the demos supporting the peace deal across the country. The latest polls reveal that 67% of Colombians will vote Yes to the agreements made in Havana".
The head of the government's negotiating team Humberto de la Calle told our reporter,
"Those who vote YES will not only end the FARC as an armed organization, but open new convenient and useful roads for Colombia. People have a right to vote NO, but it is important that they know the consequences of their vote. I hope that all of us as Colombians decide the country's future".
However, part of the peace deal is proving contentious. The fact that FARC rebels will not face jail time when confessing to crimes. Those voting No, including former President Alvaro Uribe say they don't want peace at any cost and say that a better agreement could be negotiated.
"We – the No voters – say in solidarity to those for Yes that we too want peace. Our concern is not with the Yes, but with the fear of seeing a weakening of democracy in our constitution in the face of terrorism," Uribe told a rally ahead of the vote.
If the Yes wins, the rebel group will lay down their arms, and take up seats in Congress, the power now lies with the people.