WTO backs Boeing over Airbus in latest round of government subsidies row
Comments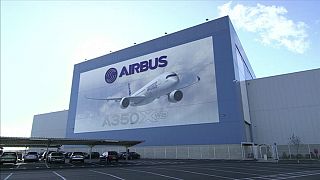 The World Trade Organisation has ruled against the European Union over subsidies to planemaker Airbus.
We call on them to end subsidised financing of Airbus immediately

US Trade Representative
The global trade body says the EU has failed to comply with its earlier rulings that billions of euros of European government loans to Airbus were illegal state aid.
WTO panel issues compliance report on US challenge to EU aircraft subsidies #TradeDisputeshttps://t.co/Q8cnFnYZHx

—

WTO

(@wto) September 22, 2016
The WTO has sided with Boeing, saying the loans were a "genuine and substantial" cause of significant lost sales by the US aviation giant.
The United States said Airbus had failed to undo subsidies worth $22 billion, including $4 billion for the A350.
US Trade Representative Michael Froman said the subsidies had cost US workers exports worth tens of billions of dollars.
"We expect the EU, Germany, France, the United Kingdom, and Spain – some of our closest trading partners – to respect WTO rules. We call on them to end subsidised financing of Airbus immediately," he said in a statement.
It is the latest round in a bitter dispute that has been raging for 12 years with Boeing and Airbus accusing each other over government subsidies.
EU hints at appeal against new WTO report on Airbus subsidies https://t.co/9WucFmUeJApic.twitter.com/UIG8NQ46lO

— Reuters World (@ReutersWorld) September 22, 2016
"We are closely analysing the report," the European Commission said. Brussels called the WTO findings "unsatisfactory" and is likely to appeal against them.
In earlier findings, the WTO ruled that both Airbus and Boeing received unfair subsidies worth billions of dollars.