Syria's Assad says US 'lacks will' to work with Russia to defeat terrorists
Comments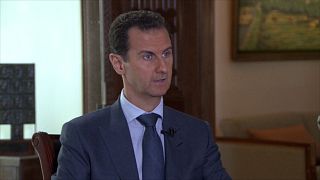 Embattled Syrian President Bashar al Assad has hit out at the US, saying it has no will to work with Russia to defeat ISIL and other groups seen as terrorist in Syria.
In an interview with Associated Press's Ian Phillips, Assad also accused Washington of deliberately targeting Syrian troops in a recent deadly airstrike.
Associated Press: "Do you believe there could ever be a joint US-Russian military partnership against the militants, as outlined in the deal?"
President Bashar al Assad: "Practically, yes, but in reality, no, because the United States doesn't have the will to work against al-Nusra or even ISIS, because they believe that this is a card they can use for their own agenda. If they attack al-Nusra or ISIS, they will lose a very important card regarding the situation in Syria. So, I don't believe the United States will be ready to join Russia in fighting terrorists in Syria."
Associated Press: "This week, the US has said the coalition attack on Syrian troops was an accident. Do you accept that explanation?"
President Bashar al Assad: ''No, no. It's not, because it wasn't an accident by one airplane for once, let's say. It was four airplanes that kept attacking the position of the Syrian troops for nearly one hour, or a little bit more than one hour. You don't commit a mistake for more than one hour. This is first. Second, they weren't attacking a building in a quartier; they were attacking a huge place constituted of many hills, and there was not terrorist adjacent to the Syrian troops there. At the same time, the ISIS troops or the ISIS militants attacked right away after the American strike.''
Assad also rejected U.S. accusations that Syrian or Russian planes had struck a UN aid convoy in Aleppo on Monday, or that his troops were preventing food from entering the city's rebel-held eastern neighborhoods.