Renzi shatters illusion of unity in Bratislava
Comments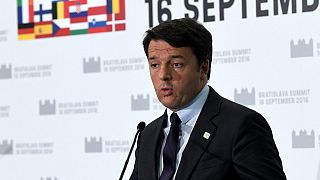 Describing today's document on migrants as a step forward requires an imagination worthy of "word jugglers"

Italian Prime Minister
Italy's prime minister has declared himself "not satisfied" by the first post-Brexit EU summit in Bratislava.
Matteo Renzi says he declined to share a podium with German Chancellor Angela Merkel and French President Francois Hollande as he did not "share their conclusions" in the Slovak capital.
There has been minimal progress but the EU is still "far" from meeting the challenges it must address after Brexit, Renzi said.
Matteo Renzi shattered the illusion of unity at the Bratislava summit yesterday https://t.co/kWYWrJSH3spic.twitter.com/12lEThyL9y

—

POLITICO

Europe (@POLITICOEurope) September 17, 2016
What were his complaints?
Renzi said there had been no step forwards on migration.
This, along with post-Brexit growth, was one of the two key topics on the agenda.
Solutions to the migrant problem, identified at a summit in Malta earlier this year, "have remained a dead letter" and "we want to see facts on migrants", Renzi told reporters.
"We are doing our bit on migrants and we are ready to do so alone if necessary."
The EU's austerity policy clearly "hasn't worked", Renzi said, stressing the need for new approaches to try and stoke growth across the bloc.
The summit "was not a waste of time, but describing today's document on migrants as a step forward requires an imagination worthy of 'word jugglers'. The usual things were said again".
"Investing in growth, not austerity"
"Clear choices" must now be made ahead of a key EU summit in Rome next March, Renzi continued, "if we want to be able to give responses to meet the challenges that have come with Brexit."
Citing an earlier meeting on the Italian island of Ventotene to chart a post-Brexit course with Angela Merkel and Francois Hollande, Renzi said Rome wanted to promote an idea of Europe that "invests in growth, not austerity".
What happened in Bratislava?
EU leaders, struggling to overcome an historic crisis in the wake of Britain's vote to leave the EU, agreed to explore closer defence cooperation and boost security at their external borders.
However, they could not hide deep divisions over refugees and economic policy.
With the British contingent conspicuous by their absence, the 27 other members unveiled a six-month "road-map" of measures designed to restore public confidence in Brussels.
But several leaders, including Matteo Renzi and Hungary's Viktor Orban, shattered the facade of unity as soon as the meeting ended.
They underscored significant divisions after years of economic crisis, a record influx of migrants and a series of deadly attacks by Islamist militants.
The post-summit comments tarnished a meeting that had been meant to send out a message of unity.
The Brexit vote in June triggered what European Commission President Jean-Claude Juncker has described as an "existential crisis" for the EU.