HP Inc to buy Samsung's printer business to expand into copiers
Comments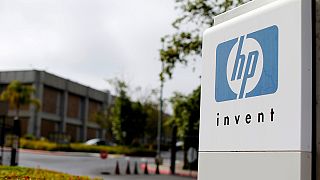 HP Inc is to buy Samsung's printer business.
The deal is valued at $1.05 (935 million euros) and comes with 6,000 Samsung staff and over 6,500 patents.
The acquisition is the biggest since it split from Hewlett Packard Enterprise last year to focus on personal computers and related hardware.
The personal-computer maker is betting it can make money on printers, even though the market is shrinking in a world dominated by devices like smartphones.
HP's Samsung Printer Deal; Raymond James Sees Less Reliance on Canon: HP Inc. (HPQ) early this morning announ… https://t.co/LNYf62vqU2

— Dennis G (@yellowmarketing) September 12, 2016
HP President and CEO Dion Weisler said it will looking to "disrupt" the office copier business.
In a statement HP said: "Copiers are outdated, complicated machines with dozens of replaceable parts requiring inefficient service and maintenance agreements. Customers are frequently frustrated with the number of visits needed to keep copier machines functioning."
Our CEOdionweisler</a> officially announces the Samsung Printer business acquisition. <a href="https://twitter.com/hashtag/newHPGPC?src=hash">#newHPGPC</a> <a href="https://t.co/eJ0YWuf5Rr">pic.twitter.com/eJ0YWuf5Rr</a></p>&mdash; HP Channel News (HPChannelNews) September 12, 2016
HP Inc is currently restructuring its activities including cutting about 3,000 jobs.
Samsung is selling the printer division is part of a longer-term plan to exit non-core businesses and focus on more high-growth areas.
It has lagged rivals such as HP, Canon and Epson in the global printer market.
Samsung does not disclose its printer sales separately, but researcher IDC said Samsung was ranked fifth with a four percent share in global hardcopy peripherals market in the second quarter of 2016.