Both sides claim victory in Gabon presidential election
Comments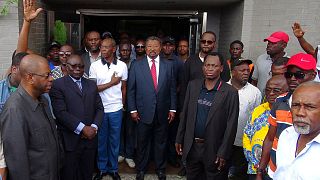 Supporters of both Gabon's president and of his chief rival have declared their candidate as the winner of Saturday's election.
Incumbent Ali Bongo and his family have ruled the central African country for half a century and is claiming another term in office.
But challenger Jean Ping has accused Bongo of fraud raising the prospect of increased tension in the wake of a bitterly fought campaign.
Gabon opposition candidate says he's winning presidential vote https://t.co/6pyUgGacBg via REUTERS

—

THE

WORLD

NOW

(@WorldNewsNgayon) 28 August 2016
An oil producer with a population of less than 2 million, Gabon is one of Africa's richest countries but declining oil output and falling prices have resulted in budget cuts and provided fodder for opposition claims that average people have struggled under Bongo's leadership.
The official results of the presidential election are due to be announced on Tuesday.(Aug 30)