Bangladesh police kill terror attack plotter in shootout
Comments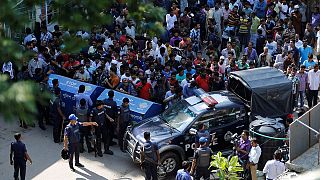 Bangladeshi police say they have killed three militants – including the alleged plotter of a terror attack which left 22 people dead last month.
The suspects were killed after a shootout near the capital Dhaka.
Police say one of the men included Bangladeshi-born Canadian Tamin Chowdhury, who was wanted in connection for the attack in July.
Police Inspector General, Shahidul Hoque said: ''It was a joint operation between the police and SWAT unit. It was carefully planned and took about one hour. When we entered the house we found three militants dead. Among those three was a person whose face looked similar to a photo of Tamin Chowdhury and I can now confirm Chowdhury was among the dead.''
The attack on a cafe in Dhaka on July 1 was the worst in Bangladesh's history. 20 hostages, most of them foreign, and two police officers died in the incident.
After a 12-hour siege, commandos stormed the cafe rescuing 13 people, killing six gunmen and arresting another.
So-called Islamic State said it was behind the attack, but that claim was dismissed by the Bangladeshi government. Instead, it blamed domestic militants for the strike.