Celebrity chefs serve gourmet meals to Rio's homeless
Comments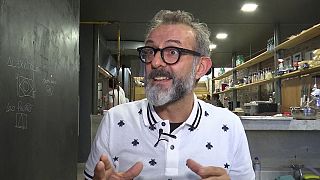 Recycling Rio's leftovers, celebrity chefs are making meals fit for a king for the less fortunate.
Every night 70 homeless people are served a gourmet dinner in designer surroundings.
It's the brainchild of venerated chef Massimo Bottura who says it's not just about good food, but rebuilding dignity.
"It's not about feeding one hundred people, come on, we can build tonnes of soup kitchens. It's something different. When they (customers) leave from here, like two days ago, two people said, 'It is the first time in life that we were treated like prince(s)'."
Via his Food for Soul organisation, he hopes to continue the project once the Games are over, and eventually that the initiative will change the way people think about food waste and hunger.
With more than 5,000 people sleeping rough in Rio, the aim is to create an Olympic legacy that stretches far beyond a bus line.