Several people injured after camera comes crashing down at Rio Olympics
Comments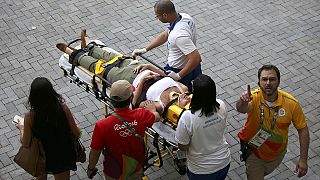 An overhead television camera suspended by cables crashed to the ground in the Olympic Park on Monday.
The incident injured at least three people in the crowds below.
A TV news report showed two of the injured looking dazed, sitting on the ground near the heavy black camera housing.
One woman, bleeding from her head as medics arrived, was taken away on a stretcher.
The other walked from the scene wearing a neck brace.
According to a spokesman for the Rio Games organizers, the camera belonged to the International Olympic Committee's official broadcasting unit.