Libyan forces "liberate" more of Sirte from ISIL control
Comments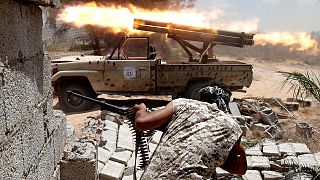 Libyan forces trying to oust ISIL militants from their stronghold of Sirte have made further advances into the city. With the help of US-led airstrikes they claim to have re-captured the former university and radio station.
The bid to liberate Sirte follows a slow push by forces loyal to the Libyan UN-backed Unity Government against the jihadists.
Battle of #Sirte 14-08-2016 Situation Map#Misrata#Libya vs #ISIS#BonyanAlMarsouspic.twitter.com/XycJF2CMfw

— Res Publica (@_paulo34) August 14, 2016
One Libyan fighter said on Sunday that the clashes were now behind the Ouagadougou Conference Centre and that he and his men were waiting for orders to advance towards other the residential areas.
The conference centre is a symbolic landmark in Sirte where Libyan forces raised their flag last week replacing ISIL's black banner.
#Libya: Libyan forces have raised the Libyan flag at the Ouagadougou conference complex in #Sirtepic.twitter.com/ua9F0sKwvX

— Thomas van Linge (@arabthomness) August 12, 2016
Since Thursday US says it has carried out 41 airstrikes targeting ISIL positions, vehicles ans weapons in Sirte.
Italy on high alert
As a consequence of the advances made by the Libyan forces, Libyan agents have warned Italy that they have found documents revealing an ISIL cell based in Milan.
They are said to be associates of Abu Nassim, a Tunisian who lived in Italy in his youth but who after fighting in Afghanistan and Syrian has since became an ISIL commander in Libya.
Italian security services are already on a state of high alert for the peak holiday season and Interior Minister Angelino Alfano has stepped up expulsions of suspected extremist sympathizers.
Italy is also concerned that ISIL militants fleeing in the fighting in Sirte will try to pass themselves off as refugees and attempt to get to Europe in smugglers' boats and cross the Mediterranean to the nearest enrty point which is Italy.
Islamic State fighters in Libya flee south as stronghold of Sirte falls https://t.co/Ij7ENnEb7b via WSJ</a></p>&mdash; WSJ Middle East (WSJMidEast) August 14, 2016