Dilma Rousseff to stand trial after indictment by Brazil's Senate
Comments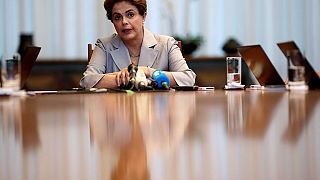 Brazil's Senate has voted to indict the country's first female president.
Dilma Rousseff is accused of using accounting tricks to hide large budget deficits.
She will now stand trial with a verdict expected in a few weeks.
The votes of two-thirds of the Senate are needed to convict Rousseff.
A conviction would remove her from office, ending 13 years of leftist rule by her Workers Party.
The country's acting president Michel Temer would serve out the rest of her term.
Rouseff and her supporters say a coup is underway, advanced by Temer's centre-right party.
Rouseff denies any wrongdoing. She has denounced her impeachment as a right-wing conspiracy. She says an accounting technicality has been used as a pretext to illegally remove a government that's improved the lives of Brazil's poorer classes.
Here is the full statement from Bernie Sanders condemning the impeachment of Brazilian President Dilma Rousseff pic.twitter.com/eCerb2I0SB

— Vincent Bevins (@Vinncent) August 9, 2016