Police and protesters clash in Berlin neighbourhood
Comments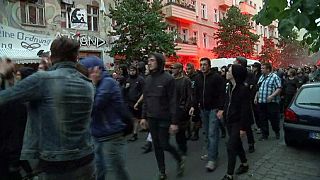 Around two thousand left wing extremists marched through the Freidrichshain neighbourhood of Berlin on Saturday in a day of tension with a similar number of police that hours later ended in clashes.
Paramedics ended up attending to both injured police officers and demonstrators as the day wore on. Demonstrators began setting off fireworks in the direction of the officers and throwing bottles and stones, while vandalizing police vehicles and breaking store windows.
The anti-authoritarian demonstrators said they were upset at the constant presence of police in their neighbourhood which is famous in Berlin for its far-left community.
Police responded with tear gas and took several demonstrators into custody, declaring the riot over a little after 11 p.m.
The authorities have repeatedly tried to clear people from a squatted house on Rigaer Strasse, resulting in months of vehicles being set on fire, which police have mostly blamed on far-left extremists.
The leftists had made open calls for street violence in recent weeks to show their opposition to the round-the-clock surveillance on the Friedrichshain squat.
Berlin's Mayor Michael Müller, a centre-left Social Democrat, has called for the residents of the Rigaer Strasse property and neighbours to sit down and talk through their differences.
The centre-right Christian Democrats, however accuses the city's authorities of being too lenient.