Britain to hold vote on Trident nuclear deterrent
Comments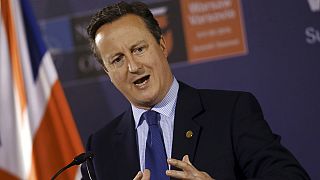 David Cameron has said he will hold a parliamentary vote later this month over whether to renew Britain's nuclear deterrent.
Speaking at a NATO summit in Warsaw, the outgoing UK Prime Minister insisted the Trident weapons system was vital for national security and needed to be put "beyond doubt."
"The nuclear deterrent remains essential in my view, not just to Britain's security but as our allies have acknowledged here today, to the overall security of the NATO alliance. On Trident, it is a manifesto pledge to have a fully fledged deterrent, a replacement for the four submarines. We need to get on with that. We need certainty about that so that investment decisions can go ahead."
Currently based at Faslane on Scotland's West Coast, the bill to replace the UK's four aging submarines, which carry Trident intercontinental nuclear ballistic missiles, could cost as much as 150 billion euros.
That could rise even further should the Scottish government make a second successful bid for independence following Britain's Brexit vote.
Edinburgh has vowed to close Faslane and force London to build a new submarine base south of the border if it breaks away from the UK.