France will meet Portugal in the Stade de France in Sunday's final.
The hosts did the business eliminating the Mannschaft in the semi final in Marseille. The final act now looms.
France vGermany
After a dynamic French opening Germany gained the ascendency, but on the stroke of half time the turnaround, Bastian Schweinsteiger handled in the box and Antoine Griezmann stroked the ball home from the spot.
MAN

OF

THE

MATCH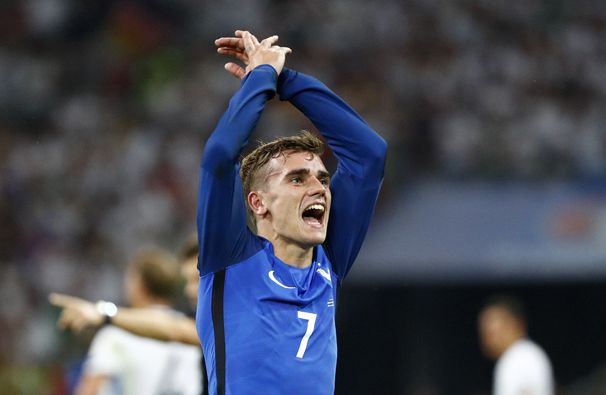 Marseille went mad
Slopply German defending led to the second French goal on 72 minutes Paul Pogba won the ball and crossed, Manuel Neuer made a mess of it allowing Griezmann to put it through Neuer's legs for a second, his sixth of the tournament.
France 2-0 Germany
France and Portugal meet in Paris on Sunday.
The passion 💪#EURO2016 #FRA pic.twitter.com/WI0Yq53Lx5

—

UEFA

EURO

2016 (@UEFAEURO) July 7, 2016
PICTURES OF THE DAY
Ronaldo goals
It was a quiet start on the pitch for Christiano Ronaldo he fired blanks for the first two matches. He then got into his stride and hit the net three times, crucially one in the semi to beat Wales.
He now equals the 32-year-old record for Euro goals with one game to go.
Ronaldo's frustration was all to evident in Portugal's first two matches his less than gracious comments about Iceland after the first match. His missed penalty and air shot against Austria in the second and everything was becoming all too much for the Real Madrid man.
Ronaldo's strike for #POR means he has equalled Michel Platini's record of 9 EURO goals. 👏👏👏👐 #PORWAL #EURO2016 pic.twitter.com/bPuY8LjwRf

—

UEFA

EURO

2016 (@UEFAEURO) July 6, 2016
Things started to look up against Hungary, more of that to come, Ronaldo netted again against Wales in the semis to equal the record of nine Euro goals set by France's Michel Platini and help his team into Sunday's final.
The Brillaint and the boring
One game to go, 50 consigned to history, we have had a look back at the tournament and selected the most entertaining and tedious matches the Euros served up.
Hungary v Portugal in Group F in Lyon, might not have looked the most appetising of fixtures on paper, but on the pitch it was football feast.
Watch: Hungary v/s Portugal – Nani and Zoltan Gera score fantastic goals https://t.co/pTsWtW2xcO pic.twitter.com/Jd4eCu0HgK

— dna (@dna) June 22, 2016
The game see-sawed Hungary took the lead with a stunner from Zoltan Gera.
Nani equalised for Portugal then came four goals in 16 minutes Hungary took the lead then Ronaldo grabbed one back with a beauty.
Balazs Dzsudzsak's second of the night gave Hungary a 3-2 lead only for Ronaldo to claim a brace and a 3-3 draw.
Germany and Italy on the other hand looked like a gastronomic delight with the finest fare in Europe washed down with a decent Bordeaux.
Instead it was a motorway service station snack that dragged on and on.
Live Euro Football in Rockies today. Germany v Italy KO 20.00 BelfastPubs</a> <a href="https://twitter.com/love_belfast">love_belfast belfastpage</a> <a href="https://twitter.com/BelfastLive">BelfastLive pic.twitter.com/wWsYwoiKsR

— Rockies Belfast (@rockiesbelfast) July 2, 2016
At 1-1 after extra time the comedy began Germany with penalty nerves of steal missed three, the most in their history, still they won 6-5, it is over 40 years since Germany lost a penalty shootout.
Tantrum time
Lets close with a video doing the rounds on the net of Christian Ronaldo, the man irritates and entertains in equal measure let's have a look at some of CR7's trademark strops. See you soon."