Iceland's football team arrives back home to hero's welcome
Comments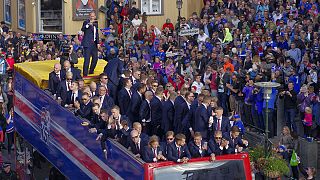 The Iceland football team has received a hero's welcome back home after their impressive performance at Euro 2016.
Few would have predicted the Nordic island, of just 330,000 people and only amateur clubs, would knock out England and make it all the way to the quarter finals.
But that is what they did and their country is proud of them.
#isl The English Bus Experience. Iceland's national football team is home. Reykjavik viking city #em2016pic.twitter.com/HNY5vICI3s

— Cohn & Wolfe Íslandi (@pr_iceland) 4 July 2016
Crowds lined the streets of Reykjavik, as the team passed by on an open-top bus.
Thousands more people also gathered in front of a stage to catch a glimpse of the now famous team.
Iceland's fairytale run came to an end on Sunday, when France crushed them 5-2.
But they have now showcased their talents to the world and their skills on the pitch will longer be remembered.