West secretly helping Syria against militants, says Assad
Comments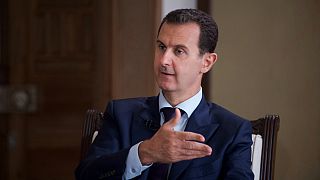 Syria's President al-Assad is claiming that Western countries have sent security officials to help his government covertly fight militants.
In an interview with Australian broadcaster SBS on Tuesday (June 28), Assad said that the Western states opposed his rule, but were acting because they faced the threat of attacks at home in the name of Islam.
"Actually, this is the double standard of the West in general. They attack us politically and they send us their officials to deal with us under the table, especially the security, including your (Australian) government. They all do the same. They don't want to upset the United States. Actually, most of the Western officials they only repeat what the United States want them to say. This is the reality," President Bashar al-Assad said.
A Syrian warplane crashed northeast of Damascus on Friday and insurgents captured and killed its pilot, both Syrian and rebel sources say.
Meanwhile a monitoring group and rebels said in a rare gain, insurgents including the al Qaeda-affiliated Nusra Front seized a strategic town in Latakia province.
Government forces had captured Kansaba in February, backed by Russian air power.