Bank of England flags up summer stimulus to counter Brexit effects
Comments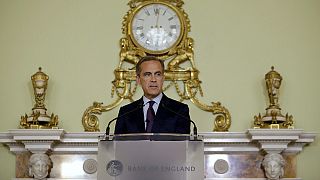 The Bank of England's Governor Mark Carney has said more stimulus will probably been needed for the UK economy over the summer to counter the effects of Brexit.
The financial markets expect the British central bank's Monetary Policy Committee to cut interest rates possibly as low as zero from the current record low 0.5 percent and print money to buy more government bonds.
He told reporters: "In my view, and I am not prejudging the views of the other independent MPC members, the economic outlook has deteriorated and some monetary policy easing will likely be required over the summer. The MPC will make an initial assessment on 14 July, and a full assessment of the economy complete with a new forecast in its August Inflation Report. In August, we will also discuss further the range of instruments to supply that monetary stimulus if necessary."
Uncertainty, the economy and policy – speech delivered live by Mark Carney at the Bank of England https://t.co/tSIQ6enr3d

— Bank of England (@bankofengland) June 30, 2016
In a warning to the government he stressed it is important that Britain's future relationship with the EU is clarified as quickly as possible and said there are limits to what the central bank can do: "Monetary policy cannot immediately or fully offset the economic implications of a large, negative shock. The future potential of this economy and its implications for jobs, real wages and wealth are not the gifts of monetary policymakers. These will be driven by much bigger decisions; by bigger plans that are being formulated by others.
The pound fell 1.2 percent against the dollar as Carney spoke and skidded to its weakest in more than two years against the euro.
This is how the pound has reacted to Carney's announcement of the possibility of more QE. https://t.co/yTCnQEghTLpic.twitter.com/EBh2yPchXI

— Kiran Stacey (@kiranstacey) June 30, 2016
London's FTSE 100 index of top company shares rose 2.27 percent having completely rebounded from the substantial post-Brexit sell-off.
Europe's major stock markets also ended the day ahead with the bulk of the gains coming after Carney's statement.