Market misery on the day after the night before
Comments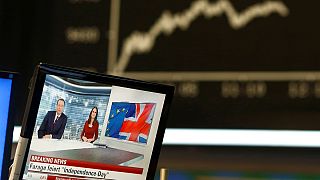 The pound has fallen to levels as low as 1985 after Britain voted to leave the EU.
Shares have also tumbled the FTSE 100 index dropped to -8 percent, then rebounded to end a -3.15 percent.
UK banks hard hit, share prices down some 30% for Barclays, Lloyds, RBS after #Brexit via business</a> <a href="https://t.co/4kBpFJRtwJ">pic.twitter.com/4kBpFJRtwJ</a></p>&mdash; Linda Yueh (lindayueh) June 24, 2016
Banks have also taken a beating with Barclays and RBS losing as much as 30 percent but settling at 17 percent.
The pound lost eight percent over the day.
The market misery looks set to continue according to Professor Ronen Palan from the international politics department at City University in London:
"For me, the critical days are next Tuesday and Wednesday. We are on Friday. The markets are going to close down for the weekend. If on Monday the markets continue to tumble – if the stock markets worldwide continue to tumble on Tuesday and Wednesday, then we might be in a Lehmann moment."
Milan bourse headed for record fall (2) https://t.co/JiVEmWBS5Rpic.twitter.com/W6i9nKx8Hx

— Mike (@Mikegalax) June 24, 2016
In Milan stocks fell to -12.5 percent and Madrid shed -12.35 percent the worst trading days in their history.
Germany's DAX is down 7%, while the French CAC 40 fell eight percent, stocks in Ireland are down nearly 10%.