Orlando shooting: Cities across the world pay tribute to victims of Pulse nightclub attack
Comments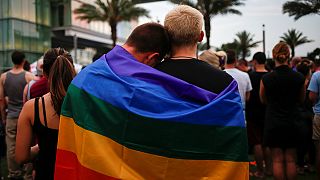 After a gunman opened fire at Pulse nightclub in Orlando, Florida on Sunday, killing 49 people and injuring 53, vigils have been held across the globe in tribute to victims of the attack.
Crowds gathered to pay their respects in London's Soho, an area well-known for its thriving LGBT (Lesbian, Gay, Bisexual and Trans) scene, holding signs which read: "Love will always win against LGBTI hate."
Meanwhile, buildings in Israel and Australia and the Eiffel Tower in Paris were lit up to display the rainbow flag, which symbolises LGBT pride.
Colourful demonstrations of solidarity were also held in Spain, Canada and across the US.