Orlando shooter's father: "I condemn what he did"
Comments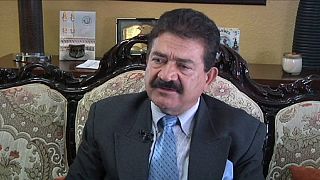 What drove Omar Mateen to commit the worst mass shooting in US history?
Mental illness? Radicalisation? Homophobia? Or a combination of all three?
As the debate continues, the mass murderer's father has said he can't forgive his son.
Afghan-born Seddique Mateen is a fringe political commentator whose posts on social media have been making their own headlines since Sunday's tragedy.
Describing his son's actions as those of a "terrorist", he said: "I condemn what he did".
"I wish I did know …what he was doing… I would have arrested him myself."
And to those mourning loved ones killed by Omar Mateen, he said:
"I apologise for what my son did and I am as sad and as mad as you guys are. You are my family."
Omar Mateen's father calls the Orlando shooting "an act of terrorism" https://t.co/hGMFD770wBpic.twitter.com/ZME595duZc

— The New York Times (@nytimes) 13 juin 2016
Mateen's father, speaking at his home in Port St. Lucie, Florida, has said his son was not radicalised but he indicated the gunman had strong anti-gay feelings. The shooter's ex-wife has described him as mentally unstable and violent toward her.
#Orlando shooter's ex-wife says she was rescued from a "disturbed" and violent Omar Mateen: https://t.co/TYnCk5otiQhttps://t.co/u04q2ptvwr

— USA TODAY (@USATODAY) 13 juin 2016