Jobs or no jobs? The Brexit question of the day
Comments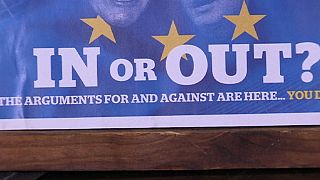 Labour Party heavyweights have waded into the Brexit debate by claiming if the country votes to leave the EU public sector jobs will be at risk.
Those that want to exit the union believe it will usher in a period of job creation.
Whetherspoons has got you covered, apparently. pic.twitter.com/yBqMhmdSDK

— Lily Wales (@LilyWales) 7 juin 2016
Tim Martin owns the Whetherspoons pub chain with close to a 1,000 outlets: "There's no reason why we can't be a prosperous country. We will have more money because we won't be paying so much into the EU, and it will unleash great entrepreneurial forces within the country."
The 'Leave' campaign insists that EU red tape is strangling the British economy.
Yet Airbus UK, which works closely with Europe, says a Brexit would add to the paperwork:
Paul Kahn is
President of Airbus UK:
"We do things once to one standard so if you introduce a British standard as well as a European standard then that makes things more complicated it doesn't make things simpler and that's the environment we are in."
.paul2020, In supporter from Airbus UK: 'If we leave EU, we lose our voice at the table and make life complicated' pic.twitter.com/uiRQl28R8k

— Bob Kass (@System2Bob) June 13, 2016
Migration is the burning issue and the impact it has on the indigenous job market.
Swati Dhingra from the
London School of Economics believes a fluid economy is a desirable economy:
"You've have access to people who are well educated often or whose education was something you didn't contribute to and now they're coming into your country. So they end up creating jobs, they end up also not taking away jobs from British workers, and the main reason is that in a growing economy there is room for everybody."
UK employment is currently running at 5.1 percent well below the EU average of over 10 percent.