France seeks more information on attacks suspect held in Ukraine
Comments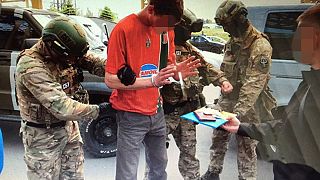 The arrest in Ukraine of a Frenchman suspected of planning 15 attacks on French soil during Euro 2016 has revived fears over security during the tournament.
Ukraine's security service the SBU says the 25-year-old detained last month near the Polish border had an arsenal of weapons and explosives, including rocket launchers and Kalashnikov assault rifles.
According to those who have questioned him he had ultra-nationalist views: angry at immigration, Islam and globalisation – and planned to attack a mosque, a synagogue and French tax offices.
French police have reportedly found a T-shirt with a far-right logo at his home – but no evidence so far of a terrorist plot. There appears to be no evidence the football tournament itself was being targeted.
An adviser to Ukrainian intelligence told euronews the young man had been in contact with forces fighting on Ukrainian territory and had received weapons training.
"He entered into the Ukrainian territory December last year, he contacted a serviceman of the Ukrainian forces, but the SBU already knew about it. He was in contact with someone from the forces that have been fighting for the integrity of Ukraine. He also had training with those weapons on Ukrainian territory," said Yuri Tandid, who is an adviser to the head of the SBU.
There are fears that the conflict in the east could provide fertile ground for terrorists seeking cheap combat weapons.
"Twenty-five people from one of our neighbouring countries who wanted to enter the European Union were arrested on Ukrainian territory. They are alleged members of Islamist terrorist organisations," Tandid added.
The Ukrainians say the arrest of the Frenchman followed months of surveillance. Reports say he could be extradited to France.
France is on high alert after militants killed one hundred and thirty people in a spate of shootings and suicide bombings in Paris last November.
Euronews correspondent Sergio Cantone reported from Kyiv:
"Throughout this operation, the Ukrainian security service and the Ukrainian authorities in general are showing the European Union that it can count on them when it comes to their own security. Of course, they're doing that also in the framework of the negotiation concerning the conflict in the Donbas."