Spanish unemployment falls below 4 million as tourist influx boosts hiring
Comments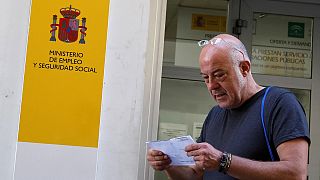 Spain just saw its biggest fall in unemployment ever recorded in the month of May.
The number of Spaniards registered as being out of work fell last month by three percent from April as nearly 120,000 fewer people signed on as jobless.
The total has dipped below four million for the first time in six years at 3.89 million, according to the Labour Ministry.
The main reason is that with a record number of tourists due to arrive in the country this holiday season resorts are hiring a lot of staff.
More than one in three jobs created was in hotels and restaurants.
However Spain's jobless total is still above 20 percent of the workforce, with only Greece having worse numbers in the eurozone.
Spain Unemployment Change below forecasts (-110K) in May: Actual (-119.8K) pic.twitter.com/ODT5DSMpFT

— GotSanctuary (@GotSanctuary) June 2, 2016
Boost for Rajoy?
The latest statistics are a potential boost for acting Prime Minister Mariano Rajoy in an election re-run in three weeks.
The vote on June 26 follows an inconclusive December election that stripped Rajoy's centre-right People's Party (PP) of its absolute majority.
Opinions polls show there could be another political stalemate, forcing parties to once again try to form a coalition.
Spain's dysfunctional labour market played a major role in December's political upset, as the vote was fragmented by support for upstart parties advocating stronger workers' rights or an overhaul of job contracts.
'The only issue'
Surveys of voters show the PP will still come in first place but again well below a parliamentary majority.
Around a quarter of voters made up their minds in the very last days of December's campaign, meaning the undecided could still be swayed at the last minute.
"If the campaign is important, then these (job) numbers are important, especially for the PP as it's the only issue they can campaign on," said Teneo Intelligence analyst Antonio Barroso.
The anti-austerity party Podemos – which translates as 'We Can' – has now teamed up with a smaller left-wing force.
They are expected to place second or third thanks to strong backing from millions of Spaniards who have yet to benefit from the gradual economic recovery.
What does Podemos want to do with Spain's labour market to fix unemployment? This:https://t.co/fi9D3cFnfZ

— The Spain Report (@thespainreport) February 15, 2016