Awesome Mount Etna erupts again!
Comments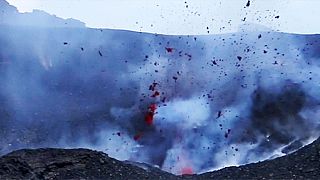 It is one of Mother Nature's most spectacular sights.
It is magnificent

American tourist
Mount Etna, Europe's most active volcano, has been at it again, spewing red torrents of lava into the sky.
Wednesday saw a short but explosive eruption. Some sporadic activity continued on Thursday.
Setting foot anywhere near the site of the bubbling lava on the southern Italian island of Sicily is not for the faint hearted but mountain guides monitoring the volcanic activity brought up groups of tourists.
"It is erupting from the central crater, it is magnificent," American holidaymaker Mary Canaval said during her climb.
Etna, some 3,330 metres high, can burst into action several times a year. The last major eruption was in 1992.
Explosions in the sky: why Mount Etna erupting is as pretty as a painting https://t.co/eV6fKtQ2U3

— The Guardian (@guardian) 24 mai 2016