Hundreds of university students staged a pillow fight in the Colombian capital of Bogota as a symbolic act carrying a message of peace. Organiser Maria Fernanda Carrascal explained that they hoped this pillow "war" would be the last that Colombians would engage in.
Colombia's government and the rebel Revolutionary Armed Forces of Colombia (FARC) have been negotiating a peace accord since 2012 that would end their more than 50-year war.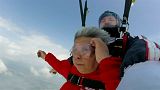 A 70-year-old grandmother has become an internet star in China after she took up skydiving.