US-UK 'not going to have a very good relationship', Trump warns Cameron
Comments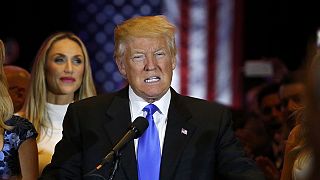 The 'special relationship' between the US and the UK could be on rocky ground, if Republican presidential hopeful Donald Trump takes office in November.
It looks like we are not going to have a very good relationship.
British Prime Minister David Cameron has refused to retract a comment labelling the property tycoon's proposal to temporarily ban Muslims from entering the US "stupid, divisive and wrong."
Reacting to the remark in an interview on British television channel ITV, Trump said:
"It looks like we are not going to have a very good relationship. Who knows? I hope to have a good relationship with him, but he's not willing to address the problem, either."
The billionaire went on to insist that he is "not stupid."
ITV quotes a Downing Street spokesman as saying the Prime Minister is "committed to maintaining the special relationship" with whichever candidate wins the US presidential election.
Creating a 'clash of civilisations'?
Cameron made his comment in December, 2015, when the Republican presidential race was still wide open. Trump has since emerged as the last candidate standing on his side of the political divide.
Speaking in an interview with mic.com in January, 2016, Cameron expanded on his view of Trump's idea.
"I think the problem with what Donald Trump has said, and what some others say too, is they are making a fundamental mistake of trying to blame all of Islam and all Muslims for what is the ideology and the actions of a minority, and I think that's wrong.
"In many ways, it actually helps the extremists, because they want to create a clash of civilisations between Islam and Christianity, or Islam and the West."
When pressed on his comments, the Republican candidate maintained his suggestion was welcomed by some Muslims.
"I have many Muslim friends," he responded. "I was with one the other day, one of the most successful men, he's Muslim and he said, 'Donald you have done us such a favour, you have brought out a problem that nobody wants to talk about'."
'Very nasty statements'
Sadiq Khan, the new Mayor of London and a practicing Muslim, apparently doesn't share his view. After Trump suggested Khan would be an exception to the proposed ban, the Mayor dubbed Trump's views on Islam "ignorant," warning they could make "both our countries less safe – it risks alienating mainstream Muslims around the world and plays into the hands of extremists."
Trump struck back:
"He doesn't know me, he hasn't met me, doesn't know what I'm all about. I think they were very rude statements and frankly tell him I will remember those statements. They are very nasty statements."
'Politics of fear at its worst'
A spokesperson for Khan responded to his comments with the following statement:
"Donald Trump's views are ignorant, divisive and dangerous – it's the politics of fear at its worst and will be rejected at the ballot box just as it was in London.
"Sadiq has spent his whole life fighting extremism, but Trump's remarks make that fight much harder for us all – it plays straight into the extremists' hands and makes both our countries less safe."
What would Brexit mean for US-UK relations?
With the UK's in-out referendum on the European Union looming, Trump outlined his views on the effectiveness of the 28-member bloc.
"If I were from Britain, I would probably not want [the EU]," he said, calling the Union a "disaster," and "very bureaucratic and very difficult."
In April, Barack Obama pushed for the UK to vote to remain in the EU, claiming Brexit would harm trade deals. However, Trump dismissed the idea, saying:
"You have to make your own deal. Britain's been a great ally. With me, they'll always be treated fantastically.
"It wouldn't make any difference to me whether they were in the EU or not.
"You would certainly not be back of the queue, that I can tell you."