Uganda opposition leader Kizza Besigye charged with treason
Comments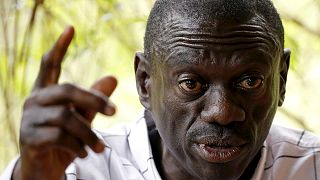 Ugandan opposition leader Kizza Besigye has been charged with treason after declaring himself the winner of recent contested elections.
He was arrested after staging his own swearing-in ceremony ahead of the official ceremony of President Yoweri Museveni who was elected to a fifth term.
The opposition leader had been held under house arrest for much of the time since February's disputed poll. The president denies all charges of cheating and fraud.
Security in the capital Kampala was tightened ahead of Museveni's inauguration on Thursday with a ban on opposition protests. The government warned journalists not to cover any demos.
"The media ban has left some kind of chilling effect on us the practitioners, the journalists in many media houses I guess, there is this latent fear that the state is out there watching," explained journalist Emmanuel Mutaizibwa.
Access to social networks Whatsapp, Facebook and Twitter was also blocked on government orders citing security concerns.
Rights groups have voiced concern over what they see as a post-election crackdown on dissent.