Argentina ex-President Fernandez de Kirchner indicted on state fraud allegations
Comments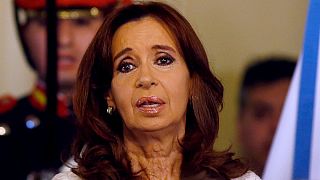 indicted on charges of fraud related to Central Bank
Economy minister and Central Bank chief also indicted
Her supporters call the investigation 'political persecution'

Former Argentinian President Cristina Fernandez de Kirchner has been indicted over accusations she manipulated the Central Bank while in office.

Federal Judge Claudio Bonadio indicted Fernandez alongside her economy minister and former central bank chief. They stand accused of selling the bank's dollars at below market rates to shore up the Argentinian peso.

"It's impossible to believe that a financial operation of this size … could have been carried out without the approval of the highest executive level of the national government," the ruling said.

The Judge will now investigate the charges to see whether it will go to trial or is dismissed. She can appeal the indictment.

Her supporters accuse the current administration of President Mauricio Macri of political persecution. Since taking office he ditched currency controls he said were choking the economy. Since lifting the controls the peso has weakened by 30% to 14.1575 to the US dollar.

Analysts argue the accusations cannot be classed as a crime as the millions of losses occurred after Macri took power.