Security was tight at a Eugene convention centre as a few thousand people arrived for a rally by Republican presidential presumptive nominee Donald Trump, and a couple of hundred protesters gathered outside.
Protesters were kept about 300 metres away by a fence and by police. Some of them shouted at Trump supporters as they arrived.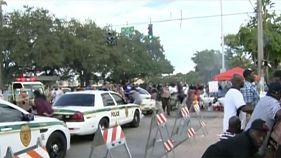 Eight people, including five juveniles, have been wounded in a shooting at a park in Miami.