Security was tight at a Eugene convention centre as a few thousand people arrived for a rally by Republican presidential presumptive nominee Donald Trump, and a couple of hundred protesters gathered outside.
Protesters were kept about 300 metres away by a fence and by police. Some of them shouted at Trump supporters as they arrived.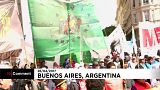 Farmers in Buenos Aires are giving away their produce to people in protest over conditions for small-scale producers.