Cologne attacks: Algerian man acquitted of attempted sexual assault
Comments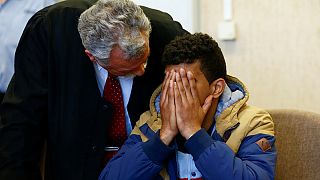 A Cologne court has acquitted a 26-year-old Algerian man of a charge of attempted sexual assault on a woman during the German city's New Year's celebrations.
No proof was found of his participation in an alleged group attack on a woman in which she says she was surrounded by ten men and groped.
The suspect, who has been named only as Farouk B, was also charged with theft. Police found the plaintiff's mobile phone on him, although he claims he was sold the handset. He received a six-month suspended sentence for breaking into a car and fencing stolen property.
German news agency DPA reported the suspect's 23-year-old brother was facing charges of robbery and theft relating to another woman who was also allegedly surrounded. He was handed the same sentence as Farouk.
Neither of the convicted have applied for asylum in Germany. They being held in custody pending deportation.
The large number of accusations of sexual assault and robbery during the end-of-year festivities caused uproar in Germany, prompting the government to fast-track a reform of its sexual assault legislation. Once done, its hoped perpetrators will be easier to convict.
Prosecutors in Cologne received 1,170 criminal complaints relating to the evening of New Year's Eve, 492 of which were allegations of sexual assault. They were reportedly carried out by men of North African and Arab appearance prompting questions over Germany's 'open door' migration policy.
A little over a week into January, the city's chief of police was placed in temporary retirement for his handling of the situation.
Prior to Friday (May 6), nine convictions had been made for theft, but this is only the second of two cases in which a sexual assault suspect has been identified.