'We need everything', Ecuador quake survivor tells euronews
Comments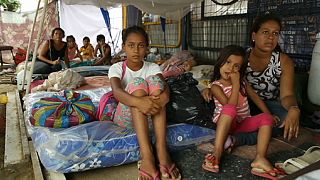 The full consequences of catastrophe in Equador have yet to be realised. The earthquake and aftershocks impacted on nearly two million people, the latest estimates suggest.
According to the World Food Programme, some 260,000 people are in need of immediate food aid.
"My house fell down. We need everything. Not just me, but this whole community here. We need water, nappies, milk, we need everything, especially for children. Everything," one woman told euronews.
Another added:
"We don't have a tent. We have asked for a little tent, but we don't have it. I have no home to live in".
Reaching isolated areas
We saw the first food and water delivery in San Eloy village, in Manabi province, 13 days after the earthquake.
Nearly 347,000 food parcels have been delivered over 65,000 of which were in Manabi and Esmeraldas provinces.
The army has distributed three-day food parcels in hard-to-reach rural areas around Rocafuerte.
Major Freddy Proaño explained the situation.
"Initially the main problem was water. Here in Rocafuerte nearly 1,000 families are still in need. We are talking about around 20-25% of residents."
Life in the towns
The situation is only marginally better in the towns. Over 30,000 people in Ecuador are being housed in temporary shelters, but many refuse to leave their homes unattended, preferring instead to camp nearby.
Euronews reporter Monica Pinna visited a temporary campsite in Portoviejo.
"Authorities have allowed those locals who have lost their houses to stay in these municipal gardens," she explained. "However, the tents are no more than plastic sheets that just protect people from the rain."
At least 660 people died in the magnitude 7.8 earthquake that hit the country on April 16, 2016.
Our full report can be seen on Aid Zone, on May 19.