Playing for Palmyra - Russia holds a concert in the ruins
Comments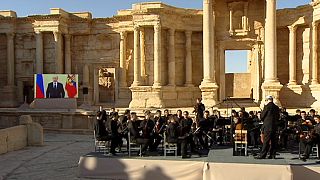 Note: an updated version of this story is available here
The orchestra from Russia's Marinsky Theatre has staged a surprise concert in the amphitheatre of the historic Syrian city of Palmyra.
The concert was held just over a month after Russian air strikes helped push ISIL militants out of Palmyra.
Conducted by Valery Gergiev
Cellist Sergei Roldugin performed
Gergiev, a close associate of Vladimir Putin, described the concert as a protest against the barbarism and violence exhibited by ISIL militants.
Russian and Syrian military personnel could be seen in the audience.
Putin addressed the audience by video-link.
In tweets
Roldugin performs at Palmyra ruins concert – can't help thinking his presence is deliberate "up yours" to West. pic.twitter.com/RBZbyxP9Mi

— Tom Parfitt (@parfitt_tom) May 5, 2016
Russianorchestra performsatPalmyraamphitheatrefor first time sinceliberationfromISIS https://t.co/28mEKAe9o4pic.twitter.com/ENziosYLse

— Daily Mail Online (@MailOnline) May 5, 2016

Russianclassicalmusic concert in recapturedPalmyranowstreaming live https://t.co/Szk1UV8lF4pic.twitter.com/SecRErEG4z

— Alec Luhn(@ASLuhn) May 5, 2016
What role has Russia played in Palmyra?
Russian special forces called in air strikes in March to help the Syrian government retake the city.
Russianforces in Syria's #Palmyra de facto serve as peacekeepershttps://t.co/K0SlmDlvN9#Syriapic.twitter.com/8ftUTbff3b

— Sputnik(@SputnikInt) April 27, 2016

Russian engineers later de-mined its historic neighbourhoods.

Moscow also says its experts are ready to help restore the city, a UNESCO world heritage site.
What has been the response to the concert?
Critics have said it is an attempt by the Kremlin to win hearts and minds and remind the world of its role in the city's recapture.
What they are saying
"Today's action involved major inconvenience and dangers for everyone, being in a country at war close to where hostilities are still ongoing. That has demanded great strength and personal courage from you all. Thank you very much." Russian President Vladimir Putin addresses the crowd by videolink.