The EU agreement with Turkey on Syrian refugees
Comments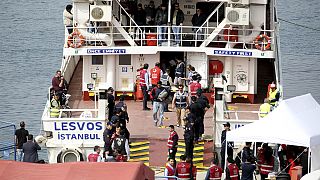 There was hope garnered with a smile of satisfaction as German Chancellor Angela Merkel, European Council President Donald Tusk and Turkish Prime Minister Ahmet Davutoglu celebrated the implementation of the agreement on Syrian refugees with the EU during their visit to Nizip on April 23.
EU representatives visited a temporary centre which housed 4,800 Syrians to check that Ankara was adhering to its part of the agreement. The EU agreed to pay six billion euros to Turkey with political rewards as well as part of the deal.
Under the pact, signed on March 18 Ankara would take back all illegal migrants who had crossed to Greece, including Syrians, in return for the the bloc taking in thousands of Syrian refugees directly from Turkey.
"We agreed that all irregular migrants coming from Turkey into Greek islands from Sunday March 20 will be returned to Turkey. The implementation will be phased in gradually and based on the so-called one-for-one principle," European Council President Donald Tusk said at the time.
The accord, under which those arriving in Greece from Turkey faced being sent back if they did not apply for asylum in Greece or if their application was rejected began the same day. In twenty- four hours 300 people who had crossed the Aegean Sea were arrested.
The first deportations began on April 4 with the departure of a group from the Greek island of Lesbos to the Turkish port of Dikili. Under the agreement the deportations only concerned migrants who had arrived on the six Greek islands including those from Syria.
The same day the first group of 16 Syrians arrived in Germany.Under the terms of the pact the EU agreed to take one Syrian refugee directly from Turkey for each one deported to Turkey until the limit of 72,000 was reached.
Visa-free travel for Turks to the Schengen area is in the accord. But last week Brussels said Ankara has only met 19 of the 72 criteria for visa liberalisation.
Prime Minister Davutoglu said that Turkey would no longer need to honour the agreement if the EU failed to ease visa requirements by June.
Ankara believes it will meet all the criteria on this matter early this month.